Craftsmen's Christmas Classic Art & Craft Festival
Starting date:
Ending date:
Event# 336-282-5550
Event Details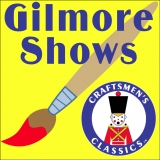 The Annual Craftsmen's Classics Christmas Art & Craft Festival features original designs and work from hundreds of talented artists and craftspeople from across America. See the creative process in action as many exhibitors demonstrate throughout the weekend. There is something for every style, taste and budget with items from the most traditional to the most contemporary. This show is a winner of Sunshine Artist "200 Best" awards.

Show Hours: Fri. 9-6, Sat. 10-6, Sun. 11-5
Online Discounts. Admission Good all 3 days with FREE Return Pass from Show Desk. Pick up from Show Desk prior to exiting the show.
Group Tickets are available in quantities of 15 or more. Call 336-282-5550 for more information.

Craftsmen's Christmas Classic Art & Craft Festival
Address :
Greensboro Coliesum Complex SEC - 1921 W. Lee St.
Greensboro
NC
Phone :
336-282-5550
(Always call and confirm events.)
Web Address :
http://www.CraftShow.com
Admission Fee :
$9/Adult, $1/Child (6-12), Under 6 Free. Prices and Hours subject to change.
Arts and Crafts Shows
Attractions and Upcoming Events
Things to do near Greensboro, NC