category : Recreation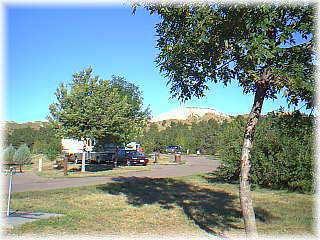 Nebraska's oldest state park (1921), Chadron might well be the best kept
secret of the state park system. With the majestic beauty of the Pine Ridge as
its backdrop, Chadron covers 974 acres of natural beauty to awe any visitor.
Located off U.S. 385 about nine miles
south of the town of Chadron, the park is
surrounded by the Pine Ridge Division of
the Nebraska National Forest.
Chadron offers many of the amenities
found at other state parks. Modern
housekeeping cabins nestle on the hillsides,
blending into the natural landscape. A
modern RV campground was built in 1991.
Dominating the scene are towering ponderosa pines that have adapted well
to the Pine Ridge soils and generally dry climate. The altitude here approaches
5,000 feet in places, which means visitors "can keep their cool" even on warm
summer days.
Miles of hiking/nature trails meander through the park, connecting with more
miles of trails that lace Forest lands. There are short segments for a brief stroll
or rugged distances and climbs for the dedicated wilderness buff. All offer a
chance to absorb the splendor of the area. Park-goers can also walk or drive
to the scenic observation point on Forest land by taking the spur off the main
park road in the southwest corner of the park.
For those who truly want to escape the hectic pace of everyday life,
Chadron State Park is the ideal locale. Here, one can literally retreat to the
leisure of a bygone age.
Accommodations
Chadron State Park has lodging accommodations to fit your needs, with 22
housekeeping cabins; 16 have two double beds, while 6 have a queen bed in
one bedroom and two twin beds in the other bedroom. Each cabin is furnished
with bed linens, blankets and towels.
Kitchenettes have stoves, refrigerators,
silverware, cooking utensils and towels.
Cribs or rollaways are available for a small
additional fee, while extra linens are
available for the asking. Some of the cabins
have patios while others have new decks
that make an ideal spot to relax and enjoy
nature or grill a meal.
For those who want to stay with a group or schedule a full-blown family
reunion, the park offers a multi-use facility that is perfect. The Central Building
consists of a dining room that can accommodate 75 people, has a fully
equipped kitchen, tables, chairs, and restrooms. Six duplex-style cabins form a
horseshoe around the Central Building.
Lodging reservations are accepted up to one year in advance and are taken
by mail, telephone or in person during regular park office hours. Reservations

must be for a minimum stay of two nights, and an advance deposit for two
nights' lodging must be paid within 10 days of reservation confirmation.
Deposits cannot be refunded for cancellations or failure to appear. Cabins may
be rented for one night on a first-come, first-served basis, if available.
Camping
Campers, too, will enjoy their stay at Chadron at the modern campground,
complete with 30 amp electrical hookups, showers, laundry, picnic tables,
grills, a playground for the kids and a dump station.
Primitive camping is also available for tenters, and all camping is primitive
during the off-season. Rates vary depending on facilities. No camping is
permitted in the cabin area, only in the designated campground.
Facilities & Activities
Activities are diverse, too, ranging from swimming in the regulation-size pool
to trout fishing to pedaling around the park lagoon in a paddleboat. Horseback
trail rides and Jeep rides
provide more spectacular
views of the area. Various
crafts are on tap at the
Chadron Trading Post, along
with snacks and souvenirs.
Visitors can savor the history of
the region with demonstrations

of old-time fur trader activities
and black powder presentations. You can even try your hand at archery, play
tennis or sand volleyball at the Lindeken courts. Groups of 30 or more can
make arrangements for a buffalo stew cookout. Most activities are available
from Memorial weekend through Labor Day.
Picnic Shelters
Five shelters are scattered throughout the park for a picnic lunch, family
gathering, or rest stop. All offer scenic views and are equipped with tables,
grills and trash barrels. All shelters may be reserved.

Address: Hwy 385 South of Chadron
Phone: 308-432-6167
Fax: Fax: 308-432-6102
Our Email: chadronsp@ngpc.state.ne.us

Come visit us in Crawford, Nebraska