Crossett, Arkansas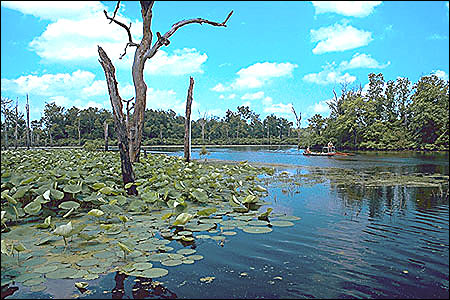 Located in southeastern Arkansas just nine miles above the state's border with Louisiana, Crossett (pop. 6,097) was named after Edward S. Crossett, a leading entrepreneur in the lumber industry's emergence in that part of the state. In May 1899, Crossett joined with three partners to form the Crossett Lumber Company, which then sought to build a lumber mill in the town of Hamburg.
Displeased with the reception the proposed mill was receiving there, the company selected a site in the forest about 12 miles southeast of Hamburg, where Crossett was born as a tent city constructing the company's mill. Lumber from initial milling operations was used to build a permanent mill, company offices and employee housing.
Crossett remained a classic "mill town" into the mid-1940s with Crossett Lumber owning all the town's homes and businesses until 1946. Though some early lumber towns were abandoned when the supply of harvestable trees was exhausted, Crossett's future was secured through improved forest management practices and through the manufacture of diverse forest-related products, including wood alcohol, turpentine, chemicals needed by soap and paint manufacturers, charcoal, food board and flakeboard. Georgia-Pacific Corporation purchased Crossett Lumber in 1962 and its manufacturing complex in Crossett now covers more than 800 acres.
The city's history is reflected in one of the three-room "mill houses" Crossett Lumber constructed for its employees that now sits in the 110-acre Crossett City Park. Built prior to 1910, the gray, wooden structure features an interior decorated to appear as it would have in the 1930s. Tours can be scheduled by phoning (870) 364-6591.
The park, which includes a 51-acre pond and a 2.8-mile walking trail, is also home to the Crossland Zoo. The zoo has an area for petting hand-tamed animals and zoo admission is free. Another of the park's features is a full-size, handmade replica of the Wiggins Cabin, an 1830s structure that had been moved to the park in 1978 but destroyed by fire in 2002.
The 65,000-acre Felsental National Wildlife Refuge, located eight miles west of Crossett, provides fishing, hunting and wildlife viewing opportunities. Twenty-two miles southeast of Crossett, the 12,247-acre Overflow National Wildlife Refuge provides habitat for migratory waterfowl, bald eagles and other birds. Excellent fishing can be found north of Crossett at Lake Georgia-Pacific, a 1,700-acre corporate impoundment served by an adjacent 47-acre park that accommodates RVs, tent campers and picnickers.
Among Crossett's major annual events are the Crossett P.R.C.A. Rodeo in August and the Wiggins Cabin Arts and Crafts Festival each October.