Cruise the Gorge Car Show
Starting date:
Ending date:
Event# 541-980-5789
Event Details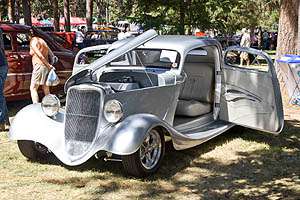 CRUISE THE GORGE takes place annually during the second weekend in August. The weekend starts off on Friday night with a "Neon Cruise" as participants "cruise the gut" in downtown The Dalles. Saturday hosts our "Show in the Shade" in a beautiful park setting on the grass and under the trees at local Sorosis Park. Friday night registration begins at 5 PM at Burgerville USA located in downtown The Dalles at 118 W. Third Street. The "Neon Cruise" begins about 7 PM.

Saturday registration begins at 9 AM at Sorosis Park and continues until noon. Award-winning cars are presented in a "Parade of Champions" occurring at 3 PM. Goodie bags and dash plaques will be awarded to the first 250 registrants.

Drag races round out the weekend on Sunday, across the mighty Columbia River at The Dalles Airport starting at 10 AM...or one can take part in the Threshing Bee Car Show at Dufur Park, 13 miles south of The Dalles, starting at 9 AM.

Register before August 1st: $12. August 1st and after: $15. For more information including registration forms and show categories, please go to the website and click on "Cruise the Gorge." Or you may email for additional information.
Cruise the Gorge Car Show
Address :
Sorosis Park, 350 E Scenic Drive, The Dalles, Oregon 97058
The Dalles
OR
Phone :
541-980-5789
(Always call and confirm events.)
Web Address :
http://www.midcolumbiacarclub.org
Admission Fee :
Free
Additional Notes :
Car Shows
Attractions and Upcoming Events
Things to do near The Dalles, OR