category : Famous Homes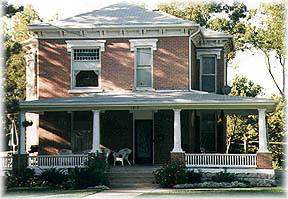 Dempster Woods, currently a Bed and Breakfast, is the former home of two Nebraska senators, John A. Dempster and Charles H. Sloan. Their notable contributions to Fillmore County and the state of Nebraska add to the inn's special enhancement in a more subtle way than the ten-foot tin ceiling, transoms, seven-foot windows, stained glass, a parlor stove, footed tubs, pedestal sinks, and antiques bring to life the Old World charm of the Dempsters and the Sloans.
Dempster, who built the 1888 brick Italianate home with wrap-around
veranda, served in 17 Civil War battles before coming from Illinois to Nebraska where he homesteaded near Ohiowa. For six years he served as superintendent of public instruction for Fillmore County and was responsible for organizing its public school districts. "Dempster's Block," evidence of this general merchandise business still graces an old storefront on Geneva's main street. Dempster was the postmaster of Geneva for four years and served in the state legislature's House of Representatives for four years.
Sloan, who resided in the home for 50 years, also earned educational and political distinction. Having graduated from Iowa State College in 1884, he became the principal of the public school of Fairmont, passed the bar exam and served as county attorney for four years. Sloan was the orator at the laying of the cornerstone of the new Fillmore County Courthouse. As a member of the Nebraska Senate he was responsible for naming Nebraska the "Tree Planter's State." He also served as a member of the 62nd, 65th, and the 71st U.S. Congress.

Address: 1212 M St
Geneva, Nebraska 68361
Phone: 402-759-4171
Our Email: dempsterwoods@alltel.net

Come visit us in Geneva, Nebraska