category : Historic Churches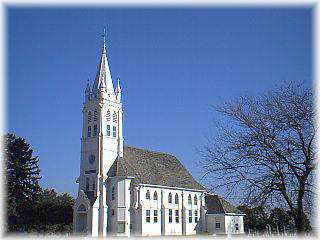 St. John's German Evangelical Lutheran Church is an excellent example of a German folk version of the Gothic Revival style. Unique in its rich wood and metal detailing, St. John's is one of the finest and least altered frame churches in Nebraska.
Emigration to the Lyons area began in the early 1870s, when German immigrants who had first settled in Eitzen, Minnesota, moved there. The congregation was formed in 1874. Listed on the National Register of Historic Places, the present church was erected in 1902 and was designed by a German-born architect, J. P. Guth of Omaha.

Address: Southeast of Lyons, near Hwy 77

Come visit us in Lyons, Nebraska