Dodge City Days
Starting date:
Ending date:
Event# 620-227-3119
Event Details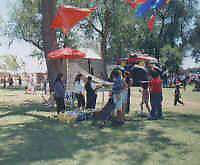 Dodge City's heritage comes to life and walks the streets annually during Dodge City Days!

The 10 day celebration (Last of July into August)hosts more than 50 events including:

- A kick-off concert
- The top-rated Dodge City Days Rodeo
- KidFest
- A 2-day Craft show with over 200 crafters from a 10-state area
- KidFest
- Professional Barbecue Contest
- Western Parade
- The crowning of Miss Rodeo Kansas and Miss Rodeo Kansas Princess
- Dozens of other exciting activities!

Our complete Festival Guide is now available online!
Dodge City Days
Phone :
620-227-3119
(Always call and confirm events.)
Web Address :
http://www.visitdodgecity.org
Admission Fee :
The Dodge City Days Button is a great value at $3.50 per button.
Festivals
Attractions and Upcoming Events
Things to do near Dodge City, KS