Duncan, Oklahoma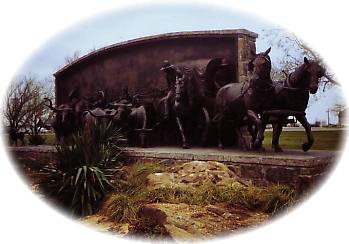 A trail of discovery leads you to great attractions, facilities and special retreat packages. Along the way you\'ll discover little town secrets, fascinating folklore and stories of the trail. Duncan has maintained the feel of the early 1900 architecture in its improved downtown area with historic lighting and building renovations. The clock on the old bank building at 8th and Main has recently been restored, but has witnessed the passing of time in downtown Duncan for almost 70 years.
As the county seat of Stephens County, a post office named Duncan was established on April 7, 1884 at the William Duncan Store, about 1 mile east of the present city limits, which was near the Chisholm Trail. When the Rock Island Railroad was built in 1892, Mr. Duncan moved his store to what is now the corner of 3rd and Main, and later moved to 7th and Main. Duncan was organized into a town in 1898. The first Courthouse was built in the middle of Main Street.
There\'s always something available for those seeking entertainment in the downtown area. The Palace Theatre features two screens with nightly movies and weekend matinees. The beautiful convention center and exposition facility provide perfect settings for performing arts in theater, music, and dancing to sporting events, rodeos, and festivals.
Known as the \"Antique Capital of Southwest Oklahoma,\" Duncan\'s historic downtown Main Street, the Chisholm Mall and many additional shops all boast one of the highest per capita concentrations of antique dealers in Oklahoma. Merchants enjoy sharing stories and folklore with interested visitors. Special programs for antique enthusiasts are offered throughout the year. Tea rooms and cozy restaurants offer visitors tempting meals and scrumptious desserts.
Duncan also boasts the World\'s Largest Garage Sale annually in August. Avid treasure hunters spend a full three-day weekend scouting great buys.