Early Day Gas Engine and Tractor Show
Starting date:
Ending date:
Event# 623-435-3955
Event Details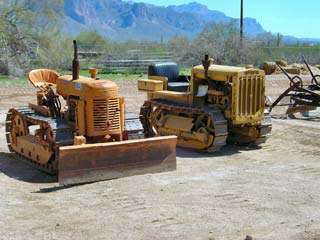 AEDGETA currently has three major shows every year. Antique tractors are pulled for percentage and some classics are pulled for exhibition. In addition to the tractor pulls and engine displays, there are contests with the equipment, silent auctions, demonstrations of early farming (including threshing and hay bailing), craft shows, hayrides, and pedal tractor rides and other activities for the kinds. We invite everyone from all over this great country come to our events. All shows are always the second weekend of the month.

The Arizona Early Day Gas Engine and Tractor Association was founded in 1979. Members share a common interest in restoring engines, tractors and related equipment from the turn of the century. This type of collecting and restoration has become increasingly popular in all parts of the country, where clubs have been formed and publications dedicated to the preservation of our mechanical heritage have emerged.

Many old pieces of farm equipment have been rescued from the junk pile only to appear in one of our shows restored to their original condition. In most cases, the restoration is made difficult by years of rust and neglect. Often parts must be located or made and many hours of careful work are necessary before the final coat of paint is dry. The restorer is rewarded by the feeling of pride when the engine is started and the old iron comes to life again.
Early Day Gas Engine and Tractor Show
Address :
Apache Junction Rodeo Park
Apache Junction
AZ
Phone :
623-435-3955
(Always call and confirm events.)
Web Address :
http://www.aedgeta.org
Tractor Shows