Earth, Air, Fire, and Water, Celebrate Generosity
Starting date:

Event# 505 757 6250
Event Details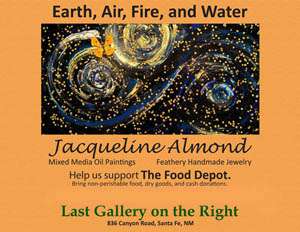 Last Gallery on the Right, 836 Canyon Rd. Santa Fe, loves to celebrate community generosity. Its art openings always include giving something back. An art opening by Jacqueline Almond is sharing space with The Food Depot.

Food Depot http://www.thefooddepot.org/ donations will be accepted at Last Gallery on the Right http://santafegallery.biz/ beginning Friday June 22, They need canned and dry goods, soaps etc. Money always helps too. We have two big barrels to fill!

Come join our merriment in the courtyard garden of the gallery on JULY 8 with psychedelic music by DJ Gary Storm http://garystormsongs.com/

Jacqueline Almond's Earth, Air, Fire, and Water series of mixed media paintings will be featured for this Santa Fe event.
Earth, Air, Fire, and Water, Celebrate Generosity
Address :
836A Canyon Road, Santa Fe, 87501
Santa Fe
NM
Phone :
505 757 6250
(Always call and confirm events.)
Web Address :
http://santafegallery.biz
Admission Fee :
A donation of food or money for the Food Depot
Fun Nights
Attractions and Upcoming Events
Things to do near Santa Fe, NM