Elk Falls Open House and Outhouse Tour
Starting date:
Ending date:
Event# 620-329-4425/4440
Event Details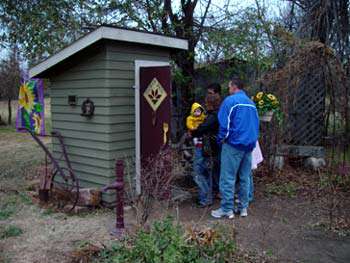 Very probably the only outhouse tour anywhere! Vote for your favorite privy!

Elk Falls, Kansas is the self proclaimed Outhouse Capital of Kansas. The tiny community has a open house and Outhouse Tour on the Friday and Saturday before Thanksgiving. Elk Falls is a town of less than 200 people that bills itself as the World's Largest Living Ghost Town. The slogan helped draw some artists to the community and revive the town a few years back. The photographs on these pages were taken on 2011, during the 16th annual outhouse tour.

Elk Falls Annual Open House - Friday and Saturday before Thanksgiving.
Demonstrations, walking tours, flea market, craftsmen, good food, and regular attractions are all part of this two-day event. Elk Falls Pottery prepares for this weekend with an extensive selection of stoneware and other gifts.

The first stop of the tour is in the one block long downtown at the Outhouse Tour Hdqrs. A nice young woman from Howard, Kansas sold me an Outhouse Button, ballot and map for $1. The few blocks of the small community had several yard sales, 11 competing outhouses, a quilt show, arts & crafts, horse drawn wagon rides and live music at Elk Falls Pottery.

After touring all of the outhouses, I voted for "King Toot" and "Star Buttz" by placing my ballot in the "Voter's Booth" outhouse.
Always held the Friday and Saturday before Thanksgiving.
Elk Falls Open House and Outhouse Tour
Address :
7th and Osage
Elk Falls
KS
Phone :
620-329-4425/4440
(Always call and confirm events.)
Web Address :
http://elkfallsouthousetour.com
Admission Fee :
Outhouse Button $1
Additional Notes :
ALWAYS CALL AND CONFIRM EVENTS ESPECIALLY IF YOU ARE DRIVING ANY DISTANCE AT ALL --
Festivals
Attractions and Upcoming Events
Things to do near Elk Falls, KS