Eureka Montana Quilt Show
Starting date:

Event# 406-297-EMQS (3677)
Event Details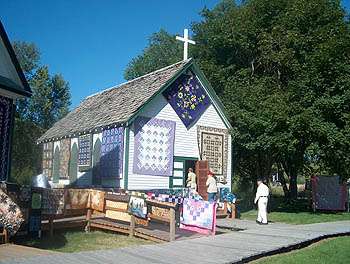 The Eureka Montana Quilt Show is a one day, outdoor, Quilt Show, always held on the 1st Saturday in August. Quilts are displayed on all of the buildings in the Historical Village, throughout the lawn of the Historical Village, and on the store fronts up and down Eureka's Main Street. One of the finest Quilt Shows in the Pacific North West.

Enter YOUR quilts
View the Quilt Show
Take a Workshop
Buy Quilts
By all means JOIN THE FUN
Eureka Montana Quilt Show
Address :
Historical Village and Main Street
Eureka
MT
Phone :
406-297-EMQS (3677)
(Always call and confirm events.)
Web Address :
http://www.eurekaquiltshow.com
Admission Fee :
Free to public
Quilt Shows
Attractions and Upcoming Events
The Historical Village in Eureka is a collection of building from around the Tobacco Valley. Including building from "Old Rexford", Iowa Falts, the first building on the Site of Eureka and forest service cabins, and a Fire Lookout.
Eureka, MT
Museums
---
The Riverwalk is a two mile walking, biking, jogging, wheelchair trail along the beautiful Tobacco River on the South end of Eureka. After a tour of the Historical Village catch the trail and take a walk on "The Wild Side"
Eureka, MT
Hiking Trails
---
Things to do near Eureka, MT