Farm and Ranch Museum Annual Harvest Festival
Starting date:
Ending date:
Event# 308-436-1989
Event Details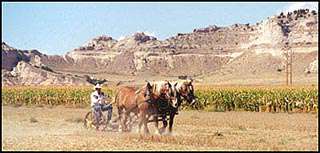 THIRD WEEKEND - Demonstrations, displays of horse, steam and gas powered vintage equipment.

Steam tractors, Stationary Baling, Sweep Grinding, hay rides, corn shelling by hand and power, threshing, gas engines, many tractors and other implements! Vintage Horse and Tractor Plowing Demonstrations. Blacksmith, sugar beet equipment, mowing, raking, stacking, stationary and horse powered baling. Drilling a well with a cable tool driller and displays of bean equipment. Plows include: 10 bottom John Deere sod plow, walking, sulky, tumble, two way, spinner and dry land plows.
Farm and Ranch Museum Annual Harvest Festival
Address :
2930 M Street, Highway 92, East of Scotts Bluff National Monument
Gering
NE
Phone :
308-436-1989
(Always call and confirm events.)
Web Address :
http://www.farmandranchmuseum.com
Admission Fee :
FREE ADMISSION !!!
Festivals
Attractions and Upcoming Events
Things to do near Gering, NE