Festival of Angels
Starting date:
Ending date:
Event# 580-765-2093
Event Details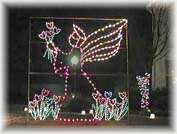 Ponca City's Holiday Lighting Celebration (over 260 displays at 4 citywide locations). Come see the largest animated Christmas light display in Northern Oklahoma and Southern Kansas. Visit our host angel at the Pioneer Woman to get your map of the other locations. Follow the lighted directional signs and experience a colossal exhibition of twinkling lights, heavenly angels, and animated displays throughout the city.

The Four Festival Locations Include:

* Fantasy Gardens - Cann Memorial Gardens, 14th & Grand Ave.
* Southern Hospitality - Marland's Grand Home, 10th & Grand Ave.
* Angel Host - stands 30ft tall to greet visitors at the Pioneer Woman Statue, 14th & Lake Road
* A Mile of Angels - Lake Ponca Park - 2 miles east on Lake Road then north to L.A. Cann Drive on Kyger Road

Tune your radio to 89.3 FM for Holiday Music as You Drive through Lake Ponca Park.

Night before Thanksgiving through December 30.
Festival of Angels
Phone :
580-765-2093
(Always call and confirm events.)
Web Address :
http://www.festivalofangels.net
Holidays