category : Architecture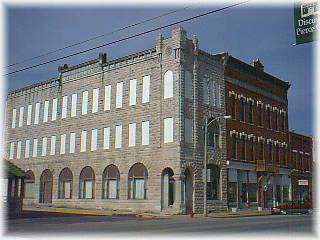 THIS BUILDING WAS DEMOLISHED AFTER SUSTAINING EXTENSIVE DAMAGE IN THE MAY 4, 2003, TORNADO.
The old First National Bank building was located next to the bandstand was built in the 1890s. After the Lawrence County Bank (on the opposite corner) was dissolved in the mid-1920s, the First National Bank soldiered on alone as the last of Pierce City's early bank buildings until finally being replaced by a more modern structure in the early 1960s. Of the orginal bank interior little remained but the old walk-in vault, but a look up at the third-floor exterior of the old carthage-stone structure revealed it was also designed to serve as a meeting hall for the Masonic Lodge.
Over the years, many professional offices - dentists, doctors, realtors - have inhabited the stucture.

Address: demolished 2003

Come visit us in Pierce City, Missouri