Five State Free Fair
Starting date:
Ending date:
Event# 620-624-3712
Event Details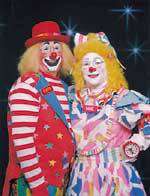 If life in the Heartland is new to you, there's no better way to sample the best it has to offer than a visit to the Five State Free Fair. Attracting exhibitors and guests from Oklahoma, Texas, New Mexico, Colorado and, of course, Kansas, the annual fair, which is over a week long, retains the simple pleasures of a small town event.

What could be more traditional than an afternoon in the bright summer sun, with lemonade to sip, with an array of home-made crafts and farm animals to observe? Only a ride on the ferris wheel as the sun sets and the sounds of carnival music drift up in the evening air.

At the county fairgrounds, just across Stadium Avenue, fairgoers can take in the final rounds of the KPRA rodeo each year, along with stock car races, a carnival, musical performances, and all the other standard fare of fairs.

Agricultural events are joined by quilt shows, ugly cake contests and even a special kids' day of games and contests. Naturally, there are dunking booths, hot dog stands and the famous tractor-pedal-pull competitions that pit miniature farmers in a contest of might.
Five State Free Fair
Phone :
620-624-3712
(Always call and confirm events.)
County Fairs