Doyle Valley Farmers Market
Starting date:

Event# 620-983-2174
Event Details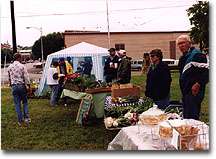 Operates every Saturday from 8-Noon. - The season operates from Memorial Day through September and may extend into October, weather permitting. News Flash!! Many vegetables are available for purchase each Saturday morning.

The Doyle Valley Farmers Market was organized in March, 1999 for the purpose of providing farm fresh produce to the public, educating growers and buyers with new tastes and ideas, to enhance the community through products and incomes and to bring people together. Additionally, it is hoped the market will attract "tourists" who will shop and enjoy all of Peabody.

The growers are also planning monthly "get togethers" with experts in growing, marketing and preparing prime produce. Local production areas will be toured and visits are planned to out of town markets and gardens. A community dinner featuring local foods is planned to showcase just what is available.

The Farmers Market also includes bakers, candle makers, frozen meats, fresh eggs, flowers and herbs and has just added a stone carver to the group.
Doyle Valley Farmers Market
Address :
100 S. Walnut St. in Santa Fe Park.
Florence
KS
Phone :
620-983-2174
(Always call and confirm events.)
Farmers Markets