category : Forts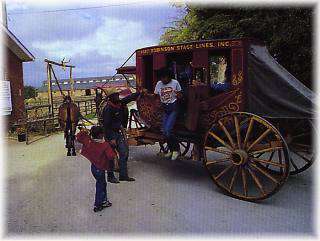 Nebraska's largest and most historic state park, Fort Robinson was an active military post from 1874 to 1948. Crazy Horse, Walter Reed, Red Cloud, Arthur MacArthur, Dull Knife, General Crook and Doc Middleton are but a few of the colorful characters who played significant parts in carving Fort Robinson's place in western lore.


Established as a post-Civil War Indian Agency protective post, Fort Robinson survived the Indian Wars to create a long heritage that is treasured today and will be for generations to come. History seems to come alive here ... the site of the epic Cheyenne Outbreak ... the world's largest Quartermaster Remount Depot ... field artillery testing station ... Olympic equestrian training grounds ... the last great gathering of the Sioux Nation ... War Dog Reception and Training Corps ... WWII Prisoner of War Camp ... USDA research station ... and now an exceptional state park situated in the heart of the rugged Pine Ridge region of northwest Nebraska, near Crawford. Nearly 22,000 acres of wide open and wild country blend history and natural beauty with abundant recreation opportunities for the whole family.




Activities




There are many ways to spend a day at the fort. First on the agenda should be a ride on the Tour Train to get acquainted with this unique park.





Enjoy a refreshing Pine Ridge morning on horseback,


an open-air Jeep ride among the buttes, or


one of the popular nature tours aboard the Fort Robinson Express.


When the day warms up, head for the indoor Lindeken Pool, complete with outdoor wading pool and sundeck.


Travel the old west way on the Fort Robinson stagecoach or with a hike through the pine-clad hills.


For something extra-special, there are early morning hayrack and trail ride breakfasts.


There's fishing, too, for trout, bass and panfish in the ponds or Soldier Creek


Stroll into history with a visit to the many historic buildings, as well as the Trailside Museum (University of Nebraska) and the Fort Robinson Museum (Nebraska State Historical Society).


Make a souvenir at the Activities Center or


backpack into the Soldier Creek Wilderness Area.


Drive through the buffalo herd exhibit pasture or


to many of the historic or recreational sites nearby: Toadstool Geologic Park and the Oglala National Grasslands, Agate Fossil Beds National Monument, Chadron State Park and more.


Golf buffs can enjoy the Pine Ridge scenery at Crawford's new Legends Butte Golf Course.


Come evening, take in the rodeo games or


the Post Playhouse


And, a must for every visitor . . . the Chuckwagon Buffalo Stew Cookout with its sing-along around the campfire.


Or, relax under the stars at the campfire film or slide program.


Park activities operate Memorial weekend through Labor Day. For complete schedules, check the Post Dispatch newsletter, available at several locations around the park.
Accomodations
Lodging and modern camping are available from the second weekend of
April through the third weekend of November. Primitive camping is allowed
year-round. All camping is first-come, first-served.
Lodging and meeting
facilities include: The Lodge - double or twin bed rooms, Cabins - 2, 3, 4 or 5
bedrooms; Brick Officers Quarters- 7, 8 or 9 bedrooms; Peterson Ranch
House - 3 bedrooms upstairs, plus 2 in basement, barn and corral also
available; Comanche Hall handles 60 people for sleeping, cooking and dining
(complete kitchen). For all accommodations, linens are furnished, and utensils,
dishes and silverware are also provided. You may also reserve a picnic shelter
for a day for your group or family reunion.
Reservations may be made by mail, telephone or in person up to one year in
advance during regular park office hours. Reservations are accepted only for
three or more nights until March 1 for the following season. After that date,
reservations are taken for two or more nights. A deposit for either the three or
two nights must be paid within 10 days of confirmation of the reservation.
RV CAMPING
3 mi. W of Crawford, U.S. 20

Approximately 100 non-designated sites,
75 electrical hookups (30 amp) .
Modern restrooms and showers .
Sanitary dump station
Food Service
Fort Robinson Inn serves breakfast, lunch and dinner daily during the
summer season. The restaurant can also cater for group functions. Sandwiches,
snacks and soft drinks are available at the Sutler's Store in the Activities
Center.
RESERVATIONS/MORE INFORMATION
FORT ROBINSON STATE PARK

CAMPING $9 per night; electric hookup, $3

LODGING SEASON Early April late November

RESERVATIONS By mail, phone or in person
during park office hours

CABINS

Sleeps 6, $80

Sleeps 8, $90

Sleeps 10, $100

Sleeps 12, $110

Bandmaster Quarters two bedrooms, $90

LODGE ROOMS

Double bed, $35

2 twin beds, $40

COMANCHE HALL Full facility with kitchen (60
people), $630 per day

BRICK HOUSES

Sleeps 14, $160

Sleeps 18, $180;

Sleeps 20, $200

PETERSON RANCH

Three bedrooms upstairs, plus two in basement
barn with corral also available, $160 per day
EXTRA BEDS Rollaway or crib, $7 each

DODD HALL $60 per day

THE ANNEX
(meeting rooms) $55 per day

PICNIC SHELTER

Cookout site shelter available when not in use for
park activities, $55 per day.
Reserved picnic shelter, $25

ARENA & OFFICE $105 per day

HORSE STALL RENTAL $7 per day

HORSE TRAIL RIDES 50 Minute Ride $12 per
rider, 75 Minute Ride $16 per rider

PONY RIDES for children under 5, $2

CHUCKWAGON COOKOUT Adult, $7; child,
$5

STEAK COOKOUT Adult, $15; child, $7

SWIMMING(Indoor Facility)

Daily Admission

Adult, $4.50; child (12 and under) $3.50; Season
Pass Adult, $60; child, $40; family, $110 (No
charge for children under the age of 3)

OTHER ACTIVITIES

Jeep Ride - Adult, $7; Child (12 and under), $5
Stagecoach $2 per person;

Hayrack Ride Breakfast - $8 per person;

Historic Tour - $4;

Buffalo Stew Cookout - Adult, $7.00; Child (12 and
under), $5.00

Steak Cookout - Adult, $15.00; Child (12 and
under), $7.00

Address: Fort Robinson State Park
PO. Box 392
Crawford, NE 69339

Phone: 308-665-2900
Our Email: ftrobsp@ngpc.state.ne.us
3 miles west of Crawford on Hwy 20
Come visit us in Crawford, Nebraska