category : Recreation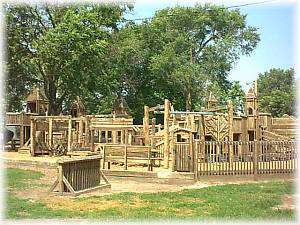 Nebraska's first community-built playground was built in 1995. The Frontier Fun Park is constructed entirely of wood. It was funded and built completely by the community for the children of today and the children of the future. It reflects the dreams and fantasies of all children at play in the world of the old west.
This park is located on the southwest side of the Fairbury City Park. Quinn field, home of the Fairbury "Jeffs" High School football team, is located on the north-east side of the City Park.

Hours: Hours: M-W-F 1:00 p.m.-4:30 p.m.
Address: Community Building
Phone: (402) 729-5155

Come visit us in Fairbury, Nebraska