category : Recreation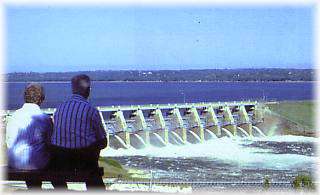 Gavins Point Dam, part of the 1944 Pick-Sloan Plan, plays an important role in the successful operation of the six main stem dams and reservoirs on the Upper Missouri River Basin. The dam was completed in 1957 at a cost of $51 million.
Water released from the five upstream dams is used at Gavins Point Dam for production of hydroelectric power. The Gavins Point Dam generators provide enough electricity to meet the annual needs of 65,000 people. Controlled releases from the dam enhance navigation and minimize erosion on the Missouri River to St. Louis, Missouri. Gavins Point Dam, along with Lewis and Clark Lake, provide $35 million in benefits to the public annually. These benefits include power generation, flood control, recreation, navigation support, and fish and wildlife enhancement.

Hours: Tours of the Power Plant are given daily between Memorial Day and Labor Day from 10 AM to 6 P.M.
Phone: 402-667-7873
Special tours can be scheduled by calling 402-667-7873 weekdays between 9:00 AM and 4:30 PM.
Come visit us in Niobrara, Nebraska