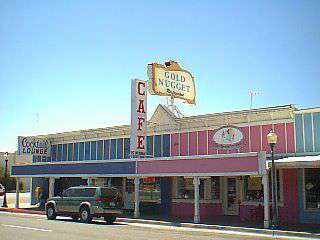 Gold Nugget Restaurant

222 E Wickenburg Way
Wickenburg AZ 85390
Ph: 928-684-0648
Fax: 928-684-0648
Additional Information
A Wickenburg Landmark Since "1863"

Proudly serving Certified Angus Beef. A Wide Variety of Fresh Seafood. Authentic Greek Dishes. Lamb Chops & Rack of Lamb.
Extensive Selection of Fine Wines & Spirits.
Banquet Facilities Available. "Full Service" Bar

When in (or near) Wickenburg make sure you stop in to experience a great cup of coffee, some breakfast, lunch, or perhaps an evening of fine dining. Designed and built in the mid l800's the Gold Nugget still has some of the orignal fixtures that were imported from France. Remodeled in 1980 the "Rose" Stained Glass Window and elaborate oak woodwork was added along with a Baby Grand Player Piano. The restaurant seats approximately 200 guests excluding the coffee shop.

The Gold Nugget has had the pleasure of being host to famous personalities such as the Legendary Clint Eastwood, Nick Adams, Ben Johnson, and the Ex-Vice President Dan Quayle, recently the Phoenix resident Alice Cooper.

"Be on the lookout" Years ago when the Gold Nugget was owned by a couple, the owner had hired a gentleman to help him run the bar. One night he caught his wife with the "nice fellow" in the bar and they were not serving drinks. He shot him dead. It's rumored that at times there is an extra bartender working the tables in the backgroud, but that when you look directly at him he is not there anymore! If you do catch sight of him, make sure you tell the help so that they can leave him a "tip"--of which they say every so often is gone they next morning.





Hours of Operation
Open 7 Days a Week ---7am to 9pm
For reservations----928-684-0648

Breakfast served---7am till noon
Lunch served-------noon till 4pm
Dinner served------4pm till 9pm--Daily.