Goodwell, Oklahoma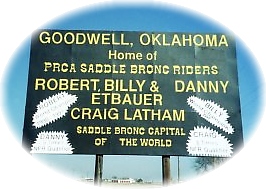 Goodwell, located in the heart of historic No Man's Land, officially became a town on June 16, 1903, when the post office was established. The Rock Island railroad was responsible for creating Goodwell along with many other communities along the railroad. Goodwell was named by railroad workers who were fond of the good soft water which came from the well they had drilled on the town site. Goodwell was later incorporated on January 2, 1917.
Good water is not the only reason Goodwell receives recognition.
Goodwell, Saddle Bronc Capital of the World, is home for four Professional Rodeo Cowboy Association (PRCA) world-ranked cowboys.
Well-known nationwide and representing not only Goodwell, but also Texas County are:
Billy Etbauer (1992, 1996, 1999, 2000 PRCA World Champion),
Robert Etbauer (1990, 1991 PRCA World Champion),
Dan Etbauer (11-time NFR qualifier),
Craig Latham (1994 runner-up to world champion)
Brett Franks (3-time NFR qualifier)
OPSU Rodeo Team (3-time National Collegiate Champions).