Harrison, Nebraska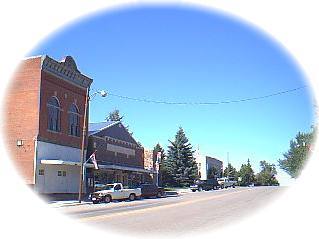 Here is a town with true-to-life "Old West" flavor and hospitality. Harrison, population 377, is the county seat and only incorporated town in Sioux County. With an elevation of 4,878 feet above sea level, it is the highest point in the state and is also the coolest one, with summer temperatures averaging highs at 77 degrees and lows around 50 degrees.
Harrison is situated on a plain atop the picturesque Pine Ridge which crosses the county from Wyoming eastward. A few miles north the ridge falls away into Sowbelly and Monroe Canyons in interesting formations, such as Inspiration Point, where the canyons house deeply wooded trails and cool, clear streams.
Tourism accommodations are available in Harrison which becomes the hub for some of the most historic and natural scenic attractions in the state. Here you can purchase food, clothing, supplies for photographers and sportsmen, automobile repairs, meals, and shopping.
Agate Fossil Beds are located 23 miles south of Harrison on Highway 29. These fossil beds are known the world over for their available fossil deposition. Toad Stool Park and the Hudson-Meng Bison Bone Bed about 28 miles northeast is an unusual part of the Little Badlands on the north side of the Pine Ridge Area and is considered to be one of Nebraska's outstanding attractions. Ogallala National Grassland in the northern part of the county includes 95,000 acres of natural beauty and wildlife. And right in Harrison, Sioux Sundries offers the 28-ounce hamburger of national fame that is sure to challenge any traveler who claims to have a hearty appetite.