category : Tours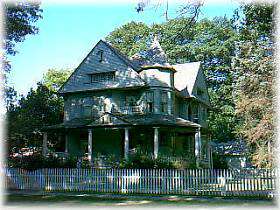 Take your own personal tour down beautifully tree-lined streets, graced with lovely older homes and buildings. The Wahoo Chamber and Economic Development has printed a self-guided brochure listing 15 historic sites that is available at the Chamber Office. Below are some of the private residences, followed by the historical Hanson House, churches, and other buildings.
F.J. KIRCHMAN HOUSE - 957 North Beech - The Queen Anne Victorian house was built by Frank J. Kirchman. Construction of the house started in May 1903 and Mr. & Mrs. Kirchman moved into the house on February 1. 1904. The exterior of the house features a turret and wrap-around-porch. R.J. Kirchman was associated with the Saunders County National Bank for 34 years. He was also Vice President of that institution. In 1932, E.S. Schiefelbein purchased the house. Ernest Schiefelbein was a prominent attorney in the community and practiced law into the 1950s. The present owners are restoring the home to its original grandeur.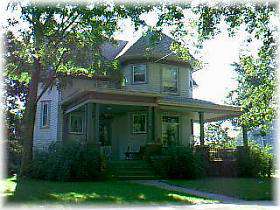 EMIL E. PLACEK HOUSE - 946 North Beech - The Victorian style house was built for Amiel Killian. It was completed in 1907. The house features a curved stairway, beveled glass window and doors. The first owner of the house was Emil Placek. Mr. Placek came to Wahoo in 1901 and opened a law office in Wahoo. In 1905 he was elected County Judge and re-elected in 1907. He was elected a state senator in 1910 and served until 1913, when he then resumed his law practice in Wahoo. In 1919, he joined the Board of Directors of the First National Bank of Wahoo, where he served as president for 20 years, starting in 1932. In 1943, the house was purchased by Lione Vance, owner of a "Mom and Pop" grocery store downtown.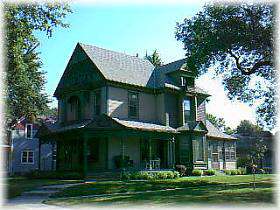 B.F. GOOD HOUSE - 906 North Beech - The large Victorian house was built in 1892. James O'Donnell was the architect and builder. Intricate gingerbread adorns the house. The house was originally built for Attorney Benjamin Franklin Good who practiced law in Wahoo until January, 1900, thence taking a seat as a judge of the Fifth Judicial District of Nebraska. Many people know the house as the Weber House. In 1911, Dr. Ernest Owen Weber purchased the house. He was a well-known and distinguished representative of the medical profession. He was a member of the Saunders County Medical Society where he served as president and was a four time delegate to state conventions. He resided in this house until his death in 1926.

Address: For Self-Guided Brochure:

Phone: 402-443-4001

Come visit us in Wahoo, Nebraska