category : Historical Markers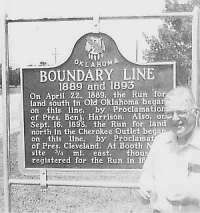 Land Runs Boundary Line

The big land runs of 1889 and 1893 were both made from a line on the north edge of present day Stillwater, Oklahoma. Thousands upon thousands of landseekers from all over the nation responded to the proclamation. It was estimated that between 100,000 and 150,000 homesteaders would compete for 40,000 claims. 1893 was a year of a great depression and a homestead offered new hope.

"On April 22, 1889, the Run for land south in Old Oklahoma began on this line, by proclamation of President Benjamin Harrison. Also, on September 16, 1893, the Run for land north in the Cherokee Outlet began on this line, by proclamation of President Cleveland. At Booth No. 1 site, 3/4 miles east, thousands registered for the Run in 1893."

Between Cherokee and Ranch streets on North Washington (US Highway 177)

Booth No. 1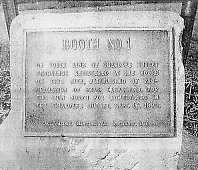 The first booth to register people for the Cherokee Strip run of 1893 was set up at Stillwater, Oklahoma where this marker stands. To handle the virtual invasion of hopeful homesteaders, Secretary of the Interior, Hoke Smith, ordered nine booths set up around the Strip border. All participants would have to register in advance.
"On south line of Cherokee Outlet thousands registered at the booth on this site, established by proclamation of President Cleveland, for the run north for homesteads in the Cherokee Outlet, September 16, 1893." - Oklahoma Historical Society, 1960
Short distance west of Perkins Road north of the National Standard Company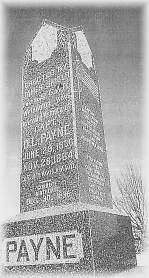 David L. Payne Memorial Monument
A historical monument dedicated to David Lewis Payne, who was known for his efforts to open the unassigned lands to settlement during the 1880s, was dedicated on April 20, 1996, where his remains were brought from Wellington, Kansas and reinterred at Boomer Park.
South West Corner of Boomer Park, Highway 177 between Lakeview Road and Airport Road
Come visit us in Stillwater, Oklahoma