category : Tours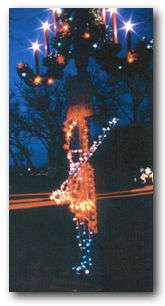 Every year visitors from all over the Midwest hit the trail to Great Bend. Our holiday light displays are among the best in the nation. In fact, the trail is a recipient of the American Bus Association's Top 100 Events in North America for the year 2000. The Trail wanders through a vibrant community that takes the holidays seriously.

Visitors spend their day in Great Bend shopping in quaint and unique stores, including one of the largest craft malls in Kansas; stopping for lunch at one of the best Mexican restaurants in the state; visiting an art gallery; enjoying a planetarium show dining in a restored Victorian cottage; and then enjoying the Trail of Lights with its animated displays and holiday wonder before checking into a comfortable (and specially priced for the holidays) hotel room.

The Trail starts on North Main at Brit Spaugh Park's Wild Lights with its animated dolphins, lions, deer, ducks and sea dragons. Next is the enchanting Lights on the Lake in Veteran's Park, where Santa and his elves live and a lighted nativity inspires the season. Then it's back to Main Street and Lafayette Lights in Downtown Great Bend (don't miss Toyland at 10th Street and K-96 on the way). The Courthouse Square glows with snowflakes and elegant lighted entry arches. There is plenty of free parking in Great Bend's downtown area and shops and restaurants are open late during the holidays.

For information about holiday activities, itineraries, packages and private light displays, call the Great Bend Convention & Visitor's Bureau at (620)792-2750.

Here are just a few of the ways your group can enjoy the holiday season in Great Bend, KS when you visit the Trail of Lights. Your group will love the lights and the Midwestern hospitality. The Trail of Lights is one of the American Bus Association's Top 100 Events for the Year 2000!








Admission: Admission is free to all city displays, but donations are welcome.
Phone: 877-427-9299
Our Email: information@visitgreatbend.com


Trail of Lights Intinerary
Time

Event

Other Information

Arrival
Welcome! Check into your
comfortable hotel, stretch your
legs and get ready for an
afternoon filled with holiday
spirit.
Special 'holiday
packages"are available
at our hotels. Check
with the CVB for more
information.
Lunch
11:30 a.m.
Tasty, relaxing, interesting,
spicy... Forget fast food, try
one of our outstanding and
unusual examples of local
cuisine.
Restaurant listing,
menu suggestions, and
pricing available from
the CVB office.
Afternoon
1:30 p.m.
Shafer Gallery or Barton County
Arts Gallery
View outstanding art by
area artist amidst
whimisically decorated
trees and special
displays.
2:30 p.m.
Planetarium Show The
Christmas Star
Travel to the night sky
over Bethleham and the
Holy Land.
4:00 p.m.
Great Bend Mural Project and
Kansas Quilt Walk
Visit Great Bend's
growing collection of
colorful murals and quilt
patterns surrounding
the historic courthouse
square.
4:30 p.m.
Ready to Shop?
The Mall brings artists
and crafts people from
all over the area to set
up shop and offer
one-of-a-kind shopping.
Dinner
5:30 p.m.
Dinner at Historical village or
Dinner and Relax at your Hotel
Historical Village offers
delicious catered food.
Hotel offers poolside
buffet.
6:30 p.m.
Hit the Trail!
Tour Great Bend's
beautiful holiday displays
Map available for self
guided catered food.
Hotel offeres poolside
buffet.
9:30 p.m.
Sweet Dreams!
Gather poolside at the
hotel for a hot drink and
cookiew before you drift
to sleep with visions of
Christmas lights
dancing in your head.
Come visit us in Great Bend, Kansas