JUMP! JIVE! JAMFest 08
Starting date:
Ending date:
Event# 903.792.4992
Event Details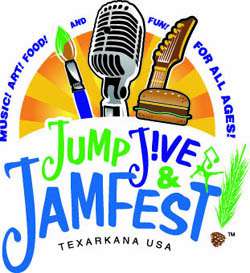 WILD and WACKY! That's the high-energy, awards-winning 2008 JUMP! JIVE! & JAMFest in Downtown Texarkana TX-AR. From the WILD MAGNOLIAS (a New Orleans Mardi Gras fav) to the hard rock of SPIN DOCTORS, plus 2008 Grammy nominees Cherryholmes and the wacky performances of The School of Rock, it's a 2-day party with MUSIC! ARTS! FOOD! & FUN for all ages. There's a quirky ArtsParade, the hilarious T-Town Burger Cookoff, four stages of music on Saturday, and "to do's" like blacksmithing, bladesmithing, wood turning, pottery and paper making. Or try improv comedy, sculpting, speed theatre, or African drumming. Ride on a Segway; mix with performers at jAVA hUT, or just sit and listen. By plane, train, car, or pogo sick, JJJ is the place to come! Buy online at trahc.org.
JUMP! JIVE! JAMFest 08
Address :
Third and Fourth Sts at Texas Blvd.
Texarkana
TX
Phone :
903.792.4992
(Always call and confirm events.)
Fax :
903.793.8511
Web Address :
http://www.jumpjivejamfest.org
Admission Fee :
Fri eve BBQ Preview: $30; Saturday Day: $6 adults; $4 kids 4-13; Sat eve: $20 til 5/1; then $25; Overnight Pkgs available
Music Festivals
Attractions and Upcoming Events
Things to do near Texarkana, TX