Jammin, Pickin & Grinin
Starting date:
Ending date:
Event Details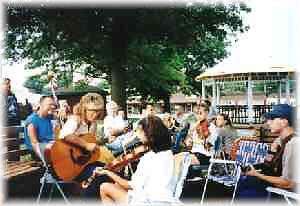 Jammin, Pickin and a Grinin happens at the Mansfield Jamboree held each Thursday evening at 6:30PM during the summer. If weather permits it will be held on the downtown public square, otherwise, it will be held at the Mansfield Auto Auction, 517 N. Business Hwy 60 beginning at 7:00PM. There is bluegrass, gospel and country/western music. All jammers and singers are welcome, and there is no cost to the public. Snacks and beverages are available at the concession stand.

The Mansfield Jamboree is an old fashion jam session where anyone can sit and play awhile. There are no scheduled bands but sometimes they just drop in. Everyone is welcome to perform at the Jamboree. Here you'll find over a hundred spectators and as many as 40-50 performers, so be sure to get there early. The entertainers break up into four or five groups scattered about the square.

Additionally, a Farmers Market is scheduled so that area farmers can bring produce and set-up stands on the square.
Jammin, Pickin & Grinin
Web Address :
http://www.mansfieldchamber.com
Music Festivals
Attractions and Upcoming Events
Things to do near Mansfield, MO