Kansas State Fair
Starting date:
Ending date:
Event# 800-362-FAIR
Event Details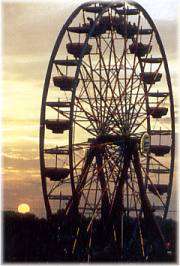 For 10 days each September, Hutchinson is home to the largest event in Kansas - the Kansas State Fair, where visitors will find good old-fashioned fun. The Fair features over 280-acres of the best of Kansas' agriculture, livestock and commerce, as well as live entertainment. Great concerts under the stars, PRCA rodeo, auto racing, numerous free attractions, & free entertainment.

The agrarian heritage of Kansas is saluted with numerous livestock shows, crop exhibits and farm equipment displays. A wide range of domestic arts, floriculture, crafts and professional arts are displayed as well. An innovative education program for teachers to bring their classes offers an experience like no other.

Popular Fair attractions include an animal birthing center and an exotic animal petting zoo. Concerts range from country to pop at the 10,000-seat grandstand and three other stages throughout the grounds fun.

The fairground facilities provide an appealing and functional setting for more than 250 events annually including: auto races, flea markets, livestock shows, the Mennonite Relief Sale, motor coach conventions and trade shows.
Kansas State Fair
Address :
Kansas State Fairgrounds, 2000 N. Poplar.
Hutchinson
KS
Phone :
800-362-FAIR
(Always call and confirm events.)
Web Address :
http://www.kansasstatefair.com
Admission Fee :
Admission varies, $5-$7
State Fairs
Attractions and Upcoming Events
Things to do near Hutchinson, KS