Kathy's Pumpkin Patch
Starting date:
Ending date:
Event# 319-470-1558
Event Details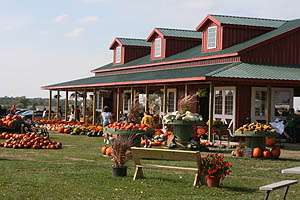 Visit our working farm just one mile east of Donnellson, Iowa, where we feature over 175 varieties of pumpkins, squash, gourds, and ornamentals at our roadside open air market. To plan your next daytrip to the beautiful Iowa countryside, browse our website to see all the family activities we have happening at our Patch: 10-acre corn maze, 10-acre pick your own pumpkin patch, Harvestville play area for kids, corn pool, rubber ducky races, obstacle courses, trike tracks, horse drawn wagon rides, gift shop.
We'd love to see you and your family, host your next educational field trip, group event and/or corporate event. We also welcome bus tours, family reunions, birthday parties, and church events. So contact the Patch when planning your next event! Please see the descriptions below for further information on what we have to offer.
September thru October.

Roadside Market
Throughout the summer months our roadside market features a large selection of fresh picked vegetables and flowers. Our specialty-"mouth watering" sweet corn! Our autumn market features over 175 varieties of pumpkins, squash, gourds, and fall ornamentals. We also carry a variety of seasonal decorations that are the perfect accent for any home.

Scenic Horse Drawn Wagon Rides
Scenic wagon rides meander around our ponds, corn and bean fields, 10 acre corn maze, and our 40 acre pumpkin patch! This old fashion wagon ride is a perfect activity for the whole family to enjoy!
Cost: $4.00/person for 30 minute ride.

Harvestville
Bring your family to experience our harvest oriented play area. Experience our "corn play" activities, obstacle courses, trike tracks, "rubber ducky" races, pumpkin tosses, slide, and play houses. We have activities for all ages.
Cost: $3.00 per person (under 2 is free)

Pick-Your-Own Pumpkin Patch
Want to pick your own pumpkins? Take a ride on the wagon, and pick your favorite pumpkins. We have lots of different sizes, colors, and varieties to choose from. Looking for a really HUGE pumpkin? Yes, we grow and sell three different varieties that can frequently weigh well over 100-200 pounds. If you're interested in one of these giant pumpkins, give us a call and we'll be glad to tag one for you!
Cost: $.30 a pound per pumpkin

Mazes
Our new 10 acre maze is filled with twist and turns that's good farmin' fun for adults and kids alike! See how adventurous you are as you wind through the maze while taking an interactive quiz of your choosing! For families with young children, walk through our labyrinth corn walk that is filled with pumpkin jokes and riddles. This corn maze like walk is part of the 10-acre corn maze, but is the perfect size for little ones and stress free for parents! Just follow the path. Resting places and educational displays are scattered throughout. This year, $1.00 of each admission will be donated to the Alzheimer's Association. Smoking and alcohol are not permitted in the maze.
Cost: $6.00 per person.
No one under the age of 12 will be allowed in the maze without an adult at any time.

Moonlight Maze
Want to attempt the maze at night by flashlight for a completely different maze experience? Every Saturday night in September and October our "Moonlight Maze" will be open from 7:00 - 10:00 p.m.! (last admittance at 9:30 p.m.) Test your nerves as you brave the dark in hopes to make it through our 10 acre corn maze. If you thought our maze was tricky during the day, wait until you tackle this challenge! Remember to bring your own flashlight! Smoking and alcohol are not permitted in the maze.
(We reserve the right to refuse admission to any person)
Cost: $8.00 per person

Bonfires
Private bonfire sites are available with 24 hours advance notice for $25.00. Bonfire site includes seating area, picnic tables, and firewood.
Kathy's Pumpkin Patch
Address :
1977 Hwy 2
Donnellson
IA
Phone :
319-470-1558
(Always call and confirm events.)
Web Address :
http://www.kathyspumpkinpatch.com
Mazes
Attractions and Upcoming Events
Things to do near Donnellson, IA