Kingfisher, Oklahoma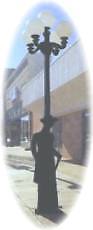 There is plenty to see and enjoy in and around Kingfisher. We will welcome you with open arms. Our community is filled with many friendly people ready to receive you.
Kingfisher is in the "Buckle of the Wheat Belt." Situated close to the original Chisholm Trail, our town is filled with historic buildings, beautiful homes, a low crime rate, and a variety of recreational opportunities.
Visions of progress and remnants of history highlight this beautiful and exciting community. Many of the farms surrounding Kingfisher are still operated by settlers' descendants. Old line families and newcomers alike work to maintain the quiet rural atmosphere in Kingfisher.

Farsightedness is a Kingfisher trait. The state's first Rural Electric Cooperative, Cimarron Electric, and the nation's largest Telephone Cooperative, Pioneer Telephone, were formed and operate here. Coleman lanterns began in Kingfisher, as did business people such as R.A. Young (TG&Y) and Sam Walton (Wal Mart).
Abraham Jefferson Seay, second Territorial Governor of Oklahoma had a dream of making Kingfisher the capital of Oklahoma, but his dream fell short. Kingfisher is home to the Seay Mansion. On the other side of prominence, is the notorious Dalton Gang, some of which are buried in the Kingfisher Cemetery today. Kingfisher's main permanent tourist attractions are the Chisholm Trail Museum, and the Gov. Seay Mansion nearby. These facilities preserve relics and information of the community's unique heritage.
It is the only town named KINGFISHER anywhere and it is in our city that the ruts of the Chisholm Trail still exist, while footprints are being made on the pathway to the future.