Lady in a Bow Tie - Great Women in Music
Starting date:

Event# 713-528-2060
Event Details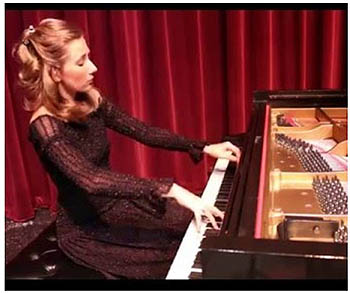 Dr. Karolina Syrovatkova's dramatization and classical piano presentation is being held at the Czech Center Museum Houston November 7, 2019 at 7:30 PM.

Dr. Syrovatkova, Czech-Born, internationally recognized classical concert pianist brings the dramatic stories and classical music of women in musical history to the stage. The "Lady in a Bow Tie" captures the creative and romantic passions of Vitezslava Kapralova (1915-40), an international recognized Czech conductor and music composer of all genres. Her music has stood the test of time and proven relevant to new generations of musicians and music listeners. Karolina Syrovatkova has been hailed for her creativity in forging new ways to enjoy and connect classical music for a wider audience.

https://www.czechcenter.org/calendar/2019/11/8/play-on-golden-age-of-czech-republic). For Tickets call 713-528-2060 or Online at the Czech Center Museum Houston

https://www.czechcenter.org/tickets/piano-concert-great-women-in-music .
The Czech Center Museum Houston is a 501(c)(3) non-profit Educational Organization. You do not have to be a member of the Czech Center Museum Houston to attend this performance.

This program, as well as the lives and music of other Czech women artists, has been recently performed by Dr. Syrovatkova in the Kennedy Center in Washington DC

(please see https://www.kennedy-center.org/video/index/M66918), and the Wheeler Opera House in Aspen, Colorado (https://www.aspentimes.com/entertainment/syrovatkova/ and https://www.aspenpublicradio.org/post/classical-pianist-highlights-unsung-female-composers) and Youtube/karolinasyrovatkova.
Lady in a Bow Tie - Great Women in Music
Address :
4920 San Jacinto St
Houston
TX
Phone :
713-528-2060
(Always call and confirm events.)
Web Address :
http://www.czechcenter.org/calendar/2019/11/8/play-on-golden-age-of-czech-republic
Admission Fee :
$29 members; $45 general admission
Live Performances
Attractions and Upcoming Events
Things to do near Houston, TX