Lake Village, Arkansas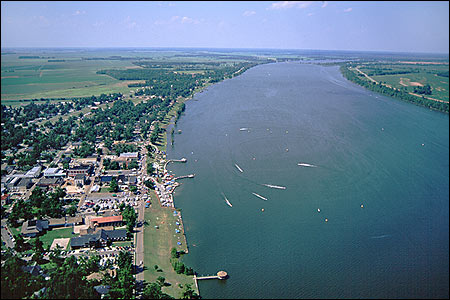 Lake Village, a town on the Great River Road National Scenic Byway, lies on the curving shore of picturesque Lake Chicot, a 20-mile long abandoned channel of the Mississippi River that is Arkansas's largest natural lake. Fishing for crappie, bass, bluegills and catfish, as well as water sports and birding, are popular on the lake. Lake Chicot State Park offers cabins, campgrounds, a marina and other recreational assets. Its visitors center contains exhibits on area history and natural resources and has free brochures detailing self-guided Mississippi River levee and Civil War tours. County and private campgrounds are also located on the lakeshore, while the downtown Jack R. Rhodes Lakefront Park provides a swimming area, walking path, small amphitheater, boat ramp, and picnic pavilions.
Other area attractions include exhibits at the Lake Chicot Pumping Plant, a $90-million facility built to protect the lake's water quality by diverting silt-laden run-off; the Museum of Chicot County; and the Plantation Bed and Breakfast, located in a farm house where Confederate wounded were treated during the 1864 Battle of Ditch Bayou. Just north of downtown, an historic marker records the site where in 1923 Charles Lindbergh, who would later make the first solo Transatlantic flight, made his first nighttime flight.