Lakeside-Marblehead Lighthouse Festival
Starting date:

Event# 866-952-5374
Event Details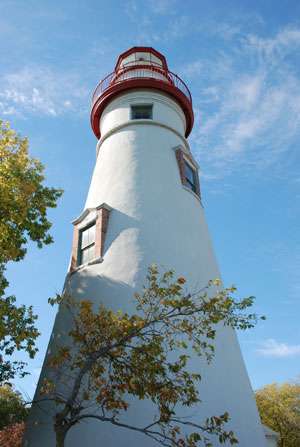 Lakeside's life and activity are growing far beyond the 11 weeks of the Chautauqua summer season. The Lakeside-Marblehead Lighthouse Festival, a cherished fall tradition that supports the Lakeside Association and Marblehead Peninsula Chamber of Commerce, will be held in Lakeside from 10 a.m.-5 p.m. on Saturday.

The peninsula-wide festival will include a variety of activities for the entire family to enjoy. Throughout the day, free shuttle service will transport visitors from Lakeside to the Marblehead Lighthouse to experience free tours of the lighthouse, while Marblehead Peninsula merchants and businesses will offer sales and specials to shoppers.

In Lakeside, more than 50 arts and crafts vendors will display quality collectibles in Wesley Lodge, South Auditorium and Wo-Ho-Mis. While on the grounds, discover Lakeside's rich history by taking a 90-minute guided walking tour through the fall foliage and past the Victorian cottages, visit the Farmers' Market or enter a homemade pie recipe into Lakeside's annual Pie Contest, Auction and Sale. .

Other family-friendly activities in Lakeside include live entertainment, hayrides, free miniature golf and shuffleboard, corn hole tournament and a feature movie at Orchestra Hall. Children may participate in several fall-themed activities, such as decorating paper plate masks or making fall magnets. Food will be provided throughout the day by the Lakeside Association, Lakeside United Methodist Men and the Marblehead Peninsula Chamber of Commerce in various locations.

Take a fall break with the family in Lakeside. Guests will have the opportunity to enjoy the beauty of Lakeside without a gate pass admission fee. To volunteer for the event, contact Mary Ann Hirsch at 419-798-4461, ext. 248 or email mahirsch@lakesideohio.com.
Lakeside-Marblehead Lighthouse Festival
Address :
Lakeside, 236 Walnut Avenue
Marblehead
OH
Phone :
866-952-5374
(Always call and confirm events.)
Web Address :
http://www.lakesideohio.com/calendar/event/26789/
Festivals
Attractions and Upcoming Events
Things to do near Marblehead, OH