Laura's Memories
Starting date:
Ending date:
Event# 417-924-3525
Event Details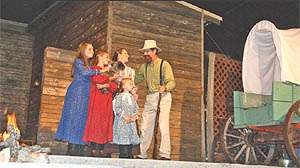 Only a 45-minute drive east of Springfield, Mo. (on hwy 60), come and experience the past with Laura Ingalls Wilder as she reminisces about her childhood pioneer days, her incredible family, and her beloved Almanzo. Laura's life unfolds through a live theater production that culminates on that momentous day in 1951 when Mansfield dedicated its library in her honor. Laura's Memories captures Mrs. Wilder's journeys through Iowa, Minnesota, the Dakota Territory, Kansas, and finally Mansfield, Missouri where Laura and Almanzo spent their remaining years. Come and celebrate the life of Laura Ingalls Wilder as the Ozark Mountain Players bring history to life under the starry canopy of the Ozark sky. This unforgettable musical production is performed in a comfortable amphitheater dedicated to the enduring memory of one of America's favorite authors, Laura Ingalls Wilder.

(Concessions are available.)
Fridays and Saturdays through September, 7:30 pm. See website for two morning presentations.
Laura's Memories
Address :
500 W. Ohio Ave, Mansfield, MO
Mansfield
MO
Phone :
417-924-3525
(Always call and confirm events.)
Web Address :
http://www.laurasmemories.com
Admission Fee :
Adults (12 & over) $7.00, Children (5-11) $3.00
Dramas
Attractions and Upcoming Events
Things to do near Mansfield, MO