Legends at the Creek Classic Car Show
Starting date:
Ending date:
Event# 301-884-9833
Event Details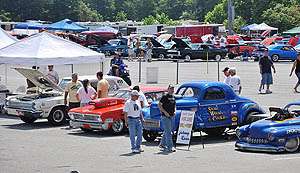 Take a step back in time and experience the thrill of Drag Racing History at the Annual Legends of Budds Creek Event - a Historic Drag, Muscle Cars & Custom Car Show!

Come see the celebrity appearances of MIR's Legends Hall of Fame, watch the nostalgia-style racing action to include the Wild Bunch 2 and Southern Slingshots (southernslingshots.com), Cruise In & Geezer Eliminations, and witness the roaring "Cackle Fest" on Saturday Night!

Nostalgia Class Racing continues on Saturday featuring the Pro Stick Association (prostickracing.com) with special Exhibition Races. Plus, the Legend's feature attraction - the "Craig Hennige" Tribute Car Show hosted by East Coast Pro Streets (eastcoastprostreets.webs.com) and the Legends Invitational Showcase Display. This amazing show has EVERYTHING nostalgic you can imagine... from Muscle Cars to Classics, Street Rods to Street Machines, Customs, Pick-ups, Vans, Altereds, Funny Cars, Willys & Many More! Accompanying this spectacular show will be a huge Swap Meet and some Great Oldies Music. Don't Miss It!

SCHEDULE
FRIDAY •
Gates Open 4pm
Time Trials 6pm - 11pm
Cruise-In 5pm - 11pm
Geezer Eliminations 8pm
Event Ends 11pm


SATURDAY •
Gates Open 9am
Cruise-In & DJ 9am - Close
Time Trials 10am - 3pm
Car Show Judging & Registration 10am - 3pm
Exhibition Rounds 2pm, 5pm, 8pm
Power Wheelstand Contest 2:30pm
ET Eliminations 3:30pm
Cackle Fest (In Legends Display) 4pm
Hall of Fame Induction Ceremony and
Celebrity Introductions 4:30pm
Car Show Awards 5:30pm


Rain Date Is Sunday

ADMISSION
Friday Adult - $15
Saturday Adult - $20
2-Day Adult - $30
Kids 6-11 - $5 Per Day
Children 5 & Under - Free

ENTRY FEES
Friday Test & Tune - $25
(Includes Geezer Eliminations)

2-Day Racer - $65
(Includes Friday T/T & Sat ET)

Saturday Test & Tune Only - $30

Saturday ET Race - $45

Friday Cruise-In Parking - Free
(Non-Judged Display)
Pitside Cruise-In Parking is Free Friday Only to
All Vehicles 25 Years & Older. General Admission Required.

Saturday Cruise-In Parking - $10
(Non-Judged Display)
All Vehicles 25 Years & Older. General Admission Required.

Saturday Car Show Entry - $30
$5 discount & Dash Plaque Included w/Pre-Entry & Payment
Car Show Entry Includes Driver Admission.

Saturday Swap Meet Space (15x24) $10 plus Admission
Free Commercial Vendor Space Available! Contact Track Office For Details.




Legends at the Creek Classic Car Show
Address :
27861 Budds Creek Rd Mechanicsville, MD 20659
Mechanicsville
MD
Phone :
301-884-9833
(Always call and confirm events.)
Fax :
301-884-9878
Web:
www.mirdrag.com/legends/
Admission Fee :
Public Admission: $15 - $30
Car Shows
Attractions and Upcoming Events
Things to do near Mechanicsville, MD