Lexington, Nebraska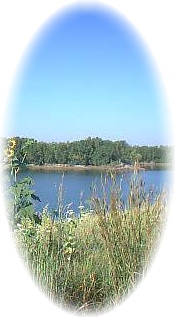 The settlement of Plum Creek, now Lexington, began as a frontier trading post. The name came from a creek that flowed into the south side of the Platte River. In 1860, the Daniel Freeman family built a trading post along the Oregon Trail, seven miles southeast of present-day Lexington. The Plum Creek area is frequently mentioned in connection with the Indian attacks during the mid-1860s. It was in this area that travelers on the Oregon Trail began seeing the huge heards of buffalo then on the Great Plains.
On August 8, 1864, Cheyenne Indians attacked the Morton and Fletcher wagon train approximately one mile east of the Plum Creek Ranch. This attack led to the construction of Post Plum Creek, a military installation that protected travelers in the area between Fort Kearney and Fort McPherson. The Freeman trading post was burned during the attack.
The construction of the Union Pacific Railroad reached this area in September 1866 and brought an end to much of the traffic on the Oregon Trail. Taking its name from the old location, "Plum Creek Station" was established by the Union Pacific a mile east of the present site of Lexington.
Drawn by increased business possibilities, Daniel Freeman moved his family and general store from the old Plum Creek area to Plum Creek Station in 1867. The village became the county seat of Dawson County upon its organization in 1871. Plum Creek was designated as a post office in 1872, moved a mile to the west in 1873, and was incorporated as a town in 1874. The arrival of the first Philadelphia Colony that same year, along with those already here working on the railroad, farming, hunting or otherwise employed, made the first sizable community in the area.
During the boom period of the late 1880s, many felt the town's name was inappropriate. After several months of discussion its name was changed to "Lexington" on February 6, 1889.
On Highway 30, three miles west of Lexington, a stone monument marks the site of the August 7, 1867, Indian attack on section-workers, and a Union Pacific freight train. Several workers were killed, and one man scalped alive, survived the ordeal.
The Dawson County Museum in Lexington features a fine collection of historic artifacts, many donated by relatives of the pioneer families who settled the Plum Creek/Lexington area.
Lexington is also well known as the "Antique Center of Nebraska". The community has 10 Antique shops and a mall with over 20 dealers displaying items.