Lighting The Trail
Starting date:
Ending date:
Event# 580-255-3644
Event Details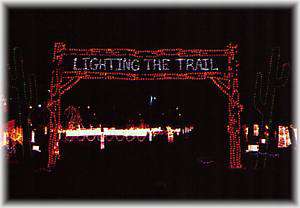 The City of Duncan invites you to share our Christmas spirit ... on the Chisholm Trail. We have three city parks decorated with over 2 million lights and 60 animated computer controlled displays, one of the largest in Southwest Oklahoma. The displays range in size from a 4' cactus to a 20' x 60' "Ski Jump Santa."
The original historic Chisholm Trail crosses through Duncan and the displays in Memorial Park follow this theme. There are bucking broncos, Indians, buffaloes, longhorns, covered wagons and cowboys galore! But watch out! There are also desperate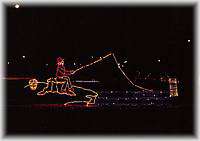 bank robbers leaving the bank with their loot. You can see cowboys swimming and fishing in Claridy Creek that meanders through Memorial Park. There are wagon rides, strolling carolers, and a concession to wash down the trail dust.
Fuqua Park East is a lighted Christmas Toyland Fantasy for children young and old. It features lighted animated Santa's North Pole Village, tumbling gingerbread men, tight rope walking clowns and much more. Santa will be there to have his picture made with your special little one. Also in this park, the Stephen's County Historical Museum offers to take you back to a simpler time. Accepted into the National Registry of Historic Places, our museum makes exploring the past just "a step away."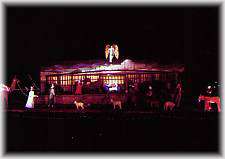 Along with other displays, Fuqua Park West beautifully depicts "The Reason for the Season." The life of Christ is featured in a block long lighted display ... from His birth, baptism, last supper, crucifixion, resurrection, and ascension. One of the favorite pieces all the parks is Halliburton Energy Services' Nativity scene which was displayed a Halliburton for over 50 years.
Fri-Sat 6:30-11pm, Sun-Thu 6:30-10pm
Lighting The Trail
Phone :
580-255-3644
(Always call and confirm events.)
Holidays
Attractions and Upcoming Events
Things to do near Duncan, OK