category : Pioneer History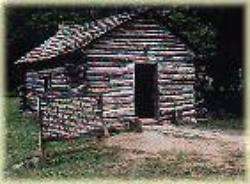 Located 13 miles southwest of Independence, just off of Highway 75, is an authentic, reconstructed log cabin located near the original site where famous author Laura Ingalls Wilder lived as a child. Near the cabin, the remains of what could possibly have been the well that Pa and Mr. Scott dug. An 1872 school house, Sunnyside School, and a turn of the century post office, Wayside Post Office, and a gift shop are also available for tourists to visit. The grave of "Dr. Tann", who treated the Ingalls family for fever 'n auge, is buried in the cememtery here. Mr. Edwards crossed Walnut Creek to bring Christmas presents to Laura and Mary.Dr. Tann Marker

This was the destination of the Ingalls first journey westward. When they settled, only a few homesteaders and the Osage Natives were there. Laura and her family lived there for two years, and Carrie was born here. It is here where Little House on the Prairie took place, Laura's most popular and successful book. It is not known if Pa ever filed a claim here, but they were eventually forced to leave their little log house with the glass windows behind.


Admission: Donation
Hours: Open daily between May 15 and October 31, Mon-Sat 10:00 am - 5:00 pm, Sunday 1:00 pm - 5:00 pm
Address: 2507 CR 3000 Independence, Kansas 67301
Phone: 620-289-4238
Our Website:www.littlehouseontheprairie.com
Tour Groups are welcome and urged to make reservations for guided tours by the Caretaker.
Come visit us in Independence, Kansas