Mahaffie's Wild West Days
Starting date:
Ending date:
Event# 913-971-5111
Event Details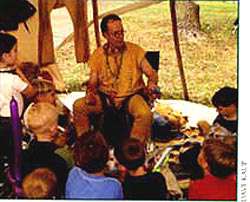 Last weekend - Buffalo Bill, Annie Oakley, Native Americans, trick riders, trick ropers, bandits and more. Two arena shows daily depicting Buffalo Bills 1800s Wild West Show. Western music, western vendors, stagecoach and pony rides. Kids area. Concessions.

Cowboys, Indians, Mountain Men, Mounted Cavalry, Dance Hall gals, stagecoach rides, and lots of critters. Old fashioned rootbeer, kettle corn, fresh roasted peanuts, barbecue and plenty of other vittles. Listen to cowboy music and poetry. Great fun for the whole family. If'n ya don't got cowboy fixin's, spruce up yar duds at one of the old time sutler's tents.

10 a.m. - 5 p.m. daily.

Public parking is available at Olathe North High School, with a free shuttle running to the Mahaffie entrance.
Mahaffie's Wild West Days
Address :
Mahaffie Stagecoach Stop and Farm, 1100 Kansas City Road
Olathe
KS
Phone :
913-971-5111
(Always call and confirm events.)
Web Address :
http://www.mahaffie.org
Admission Fee :
$5/person ages 5 & up or a special family rate of 5 tickets for $20
Festivals
Attractions and Upcoming Events
Things to do near Olathe, KS