Mangum, Oklahoma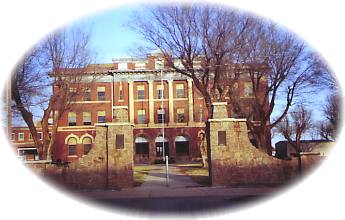 Mangum, Oklahoma is the Capital of the Empire of Old Greer County and is nestled in the rolling plains of Oklahoma's southwest. Her rich history is filled with pioneer spirit which is immortalized in Granite stone memorials at Mangum's Pioneer Hall of Fame.
Mangum's town site was plotted by H.C. Sweet, a civil engineer of Texas, in 1882, at the request of Captain A.S. Mangum, who was a veteran of the Mexican War and had been granted land script as remuneration for his services in the Texas army by the Republic of Texas. In the beginning, the town was known as "Tin City" due to the use of tin cans that were flattened out and used to cover the cracks between the boards of the first houses constructed.
Visitors will enjoy touring the Old greer County Museum and Hall of Fame filled with artifacts indicative of the pre-statehood days. It is also home to a real half-dugout dwelling and working windmill.
The last weekend in April, over 40,000 people visit the annual Rattlesnake Derby featuring the Southwest's largest flea market with over 500 dealers, and breathtaking displays of - yes - rattlesnakes!
There is a variety of shops in Mangum from Antiques and Collectibles to Home & Electronics. She also has several wee-known eating establishments from grilled onion hamburgers to BBQ and Tex-Mex flavors.
If you enjoy the outdoors, Mangum has a beautiful 9-hole golf course and driving range as well as three parks to enjoy, a public swimming pool and walking trail.