Mangum Mounties Rodeo and Pioneer Reunion
Starting date:
Ending date:
Event# 580-782-2250
Event Details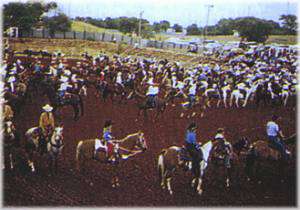 THIRD WEEKEND - The Mangum Mountie Riding Club is believed to have organized from a little group that started around 1926. The Mounties participate in activities throughout the year competing for trophies in the Grand National Horsemanship Association. In the past, the Mangum Mounties have received first and second place trophies in both parades and drill teams and have had several members win playday saddles.

The Mounties host a 3 day rodeo the third weekend in June with nightly performances featuring such events as bareback, saddle bronc, calf roping, steer wrestling, bull riding, girls barrel racing, open team roping, junior barrel racing and a calf scramble each night for children 12 and under.

Other rodeo related activities include a rodeo kickoff parade, western dress contests and dances the last two night of the rodeo.

The Old Settlers parade is also held the last day of the rodeo and a free barbecue for the settlers is held on the courthouse lawn after the fiddlers contest and other activities of a pioneer theme.
Mangum Mounties Rodeo and Pioneer Reunion
Address :
Courthouse lawn and Rodeo Arena
Mangum
OK
Phone :
580-782-2250
(Always call and confirm events.)
Web Address :
http://www.cityofmangum.com/
Rodeos