Marietta, Oklahoma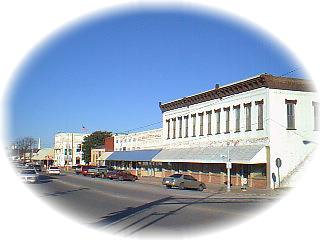 Marietta's architectural centerpiece is the Love County Courthouse (c 1910), the first courthouse built after statehood and topped with a clock dome. You'll also find the Love County Military Museum with memorabilia from the Civil War to the Persian Gulf War, - Norton's Indian Territory Museum, and the Love County Pioneer Museum in the town's historic Santa Fe Depot.
If all this history makes you hungry, drive west of town to McGehee's Catfish Restaurant, which overlooks the Red River. Or, grab some famous dollar-a-bag broken cookies from Murray Biscuit Company. Discounted brand cookies are baked fresh on the premises. Spend an evening at the Chicksaw Touso Ishto Gaming Center, where Oklahomans and friends from across the border play high stakes bingo. ("Touso Ishto" means "Big Money" in Chickasaw)
Marietta was founded in 1887 as a station on the newly-completed Santa Fe Railroad, near the site of a grist mill, general store and campgrounds on the Arbuckle Cattle Trail. This trail crossed the Red River from Texas at Thacker Ferry north and west of the present day Thackerville and then joined the Chisholm Trail further north and west of Love County.