McAlester, Oklahoma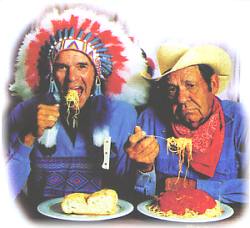 Visit the land of spaghetti eatin'
rough ridin'
Indians, Italians
& Cowboys!
One of Oklahoma's oldest communities, McAlester originated in 1870 as a trading post at the crossroads of the California Trail and the Texas Road, two well-traveled Choctaw Indian Territory cattle routes. Between 1870 and 1920, abundant coal deposits brought an influx of immigrants, primarily Italian, to work in the mines. Today, the rich heritage of the Italian people who settled here lives on through several fine restaurants and McAlester's Italian Festival at the Pittsburg County Fairgrounds each Memorial Day weekend.
Coal mining created the town's economic prosperity early on, and local museums preserve the history of those days. A collection of vintage mining tools is on display at the Pittsburg County Historical Society, and the Pioneer Coal Miner Memorial stands as a tribute to the thousands of people who worked in the mines - especially those who died in mining disasters. Learn the whole story at McAlester Building Foundation, Inc., a local school turned museum and community center. Drop by the J.G. Puterbaugh House and see how one founder of McAlester's coal industry lived - very comfortably. Then, stroll through the adjacent Garrard Ardeneum - the term "ardeneum" combines the qualities of "arboretum," "garden" and "museum." More museum specialties include the impressive architecture and furnishings of the Scottish Rite Masonic Temple, the Oklahoma Prisons Historical Museum and, the Tannehill Museum which holds exhibits on early weapons.
Many Italians came from Italy, through the Ellis Island point of entry in New York, to find honest, but hard, work in the often dangerous) coal mines. As the new immigrants achieved and overcame the obstacles in their new country, some saved up enough money to bring family from Italy to join them in Oklahoma. At that time McAlester was in Indian Territory, in the part controlled by the Choctaw Nation (one of the American Indian tribes commonly referred to as "The Five Civilized Tribes") - Indian Territory and Oklahoma Territory were joined to create the brand-new State of Oklahoma in 1907. The Italian community in the McAlester area flourished and thrived and grew over the years. As the mines began to play out, the Italians in this area went into other trades and businesses, including the establishment of some of the finest Italian restaurants in America. Other nationalities were also represented in the immigrant tide that built up this regaion - notably Greeks and Russians in significant numbers. However, it was the Italians who marked this part of Oklahoma most indelibly and wonderfully.