Medicine Creek Days
Starting date:
Ending date:
Event# 308-697-3711
Event Details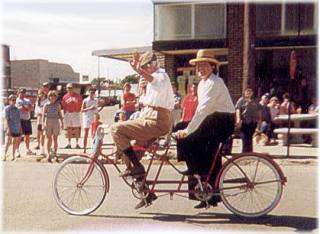 Come and celebrate "Hometown Heroes" during Medicine Creek Days sponsored by the Cambridge Chamber of Commerce.

Highlights of the weekend will be a COUNTRY/WESTERN MUSIC CONTEST on Friday evening. The Chamber and 105.3 KIOD will sponsor a country/western music contest. Winner of this contest will win an opportunity to participate in the McCook Colgate Country/Western Music Contest. Participants in this contest could eventually go to the national Colgate Contest in Nashville.

Saturday Highlights will include the morning parade, showcasing our theme "Hometown Heroes" with a $250 prize for Best of Theme. An ART/CRAFT EXHIBIT will be presented by artist Sondra Jonson and the Youth Art Club. The STREET DANCE, BEER GARDEN AND HAMBURGER STAND will be the highlight of the evening's activities.

On Sunday, participate in the ROAD RALLY, a competition where participants drive a route by following clues. The car to drive the route closest to a predetermined time is the winner. The more occupants you have in the vehicle (car, van, truck) the more help you have interpreting the clues. The winner of this year's road rally is responsible for the 2006 Road Rally. A spectacular FIREWORKS DISPLAY sponsored by the Chamber, the City, and the Fire Department will wrap up this fun-filled weekend Sunday evening after dark (about 10 p.m.).
Medicine Creek Days
Phone :
308-697-3711
(Always call and confirm events.)
Festivals