category : Memorials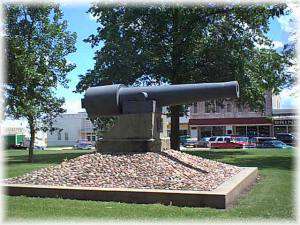 This replica of a World War I cannon stands on the west courthouse lawn in memory of the USS Maine destroyed in the Havana Harbor, February 15, 1898.
The cannon is a replica because the actual cannon that was originally placed as the memorial was called up in World War II to be used as scrap metal - yet another sacrifice in the efforts for our country's freedom. The plaque placed on the memorial remains originally cast from the metal of the USS Maine.
A local blacksmith made this replica statue in respect for the continuation of the memorial.
Come visit us in Tecumseh, Nebraska