category : Museums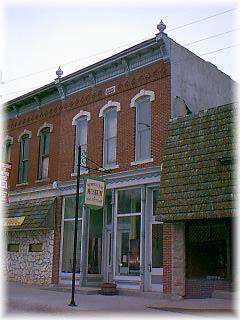 The newest addition to the Heritage House Museum Complex is located in downtown Weeping Water in the building built by the Oddfellows for Oddfellows, Rebeccas, Masons, Eastern Star and Rainbow, I.O.G.T., G.A.R., Royal Arcanum and Royal Neighbors. The local newspaper, The Weeping Water Republican, occupied the lower floor for many years. When the lodges and the newspaper moved to other locations, the building was sold to a private party who donated it to the City, and in 1993 was opened as the museum.
The displays in this building document the businesses operating in the town form the time of incorporation in December, 1870. A scale model of the six-block business district as it appeared at the turn of the century was built by the University of Nebraska's College of Architecture. A soda fountain, complete with back bar, a barber shop, carpenter shop and general store, all containing items from the community, stir feelings of nostalgia in the older generation and are a learning experience for children.
Also contained in this building is a Celebrity collection gathered by Kevin Brack. This collection consists of over 2000 items, including memorabilia received from movie and TV stars, sports figures as well as political figures nd local celebrities. This collection is constantly growing and because of a lack of space is only partially displayed, with displays changing constantly. This collection includes original scripts, gowns and clothing worn in movies, autographed photos and a wide variety of items.

Admission: Free Admission, donations appreciated
Hours: HOURS: Monday through Friday, 10:00 a.m. to 2:00 p.m.
Address: 215 W. Eldora
Phone: 402-267-4925, or

402-267-2225
Come visit us in Weeping Water, Nebraska