Miami, Oklahoma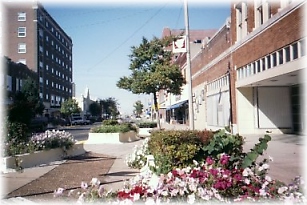 Travelers on Historic Route 66 will definitely want to make Miami a stop as they cruise down "America's Main Street." One can still drive on a piece of the original Route 66 "Ribbon Road." This 13 mile stretch is the only paved section of 9 foot wide, one lane Route 66 that can still be driven.
Route 66 runs straight to the heart of Miami and the Coleman Theatre Beautiful. Built as a vaudeville theatre and movie palace, the Coleman opened in 1929. Many early stars including Will Rogers appeared on its stage and its screen. This opulent theatre is being restored to its original splendor. Tours are conducted year round.
Miami is home to the Ottawa County Historical Society's Dobson Museum. Native American artifacts and other historic items depict the lives of early settlers and the legacy of the great lead and zinc mines.
The Stables in southeast Miami is the newest entertainment facility in this part of Oklahoma. A joint venture of the Miami Tribe of Oklahoma and the Modoc Tribe of Oklahoma, the Stables offers high-tech electronic games, simulcast races, and bingo.
Miami History
Miami was originally a trading post called Jimtown in the sparsely settled region set aside for a number of small Indian tribes. Enacted in 1891, by the Secretary of the Interior was the authorization to sell to the Miami Town Company on the behalf of the Ottawa Tribe of Indians land to be platted for the development of the future town of Miami. Miami was to become the first town in Indian Territory where purchasers could secure a deed to their property. The town was incorporated in 1895.
Miami might have followed the usual development from a trading post in Indian Territory to a small town except that lead and zinc were discovered in 1905. Boom excitement caused the population to increase 141 per cent in a brief period.