Missouri Day Festival
Starting date:
Ending date:
Event# 660-359-4324
Event Details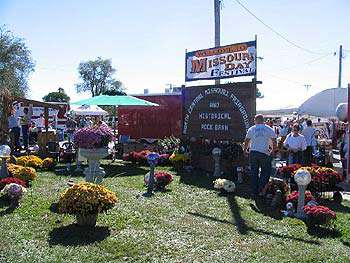 The Missouri Day Festival is the largest festival of the year for Trenton. Held the third weekend in October each year, this event brings in over 15,000 people to Trenton. This is a family-friendly event that hosts activities for persons of every age. Adults and children alike can shop with nearly 150 different vendors, play, eat and just have fun. In conjunction with the festival, we also host a marching band competition for high schools throughout Missouri.

The Missouri Day Festival began in Trenton in October 1984 to honor the history of our state. The event centers on the Rock Barn which is a limestone, octagon shaped building that is on the National Register of Historical Places. The third Wednesday in October was proclaimed Missouri Day in 1915 by the Missouri General Assembly. Governor Arthur M. Hyde, a Trenton, Missouri native, proclaimed October 18th as Missouri Day.

In 1997, the Missouri Day Marching Band Festival was added to their list of activities. There are around 50 high school marching bands that compete in different areas during our festival. You can see many of them marching in our very large parade, which takes place on Saturday morning. For those who enjoy watching the bands perform, you can follow them to the C.F. Russell Stadium where they will participate in field competitions all day long.

Trenton, Missouri is located on Highways 6 and 65 about 90 miles northeast of Kansas City or 100 miles south of Des Moines.
Missouri Day Festival
Address :
NCM Fairgrounds, 617 Main
Trenton
MO
Phone :
660-359-4324
(Always call and confirm events.)
Web Address :
http://www.trentonmochamber.com
Festivals
Attractions and Upcoming Events
Things to do near Trenton, MO