Mount Angel Oktoberfest
Starting date:
Ending date:
Event# 503-845-9440
Event Details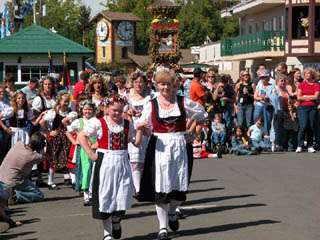 Every year over 350,000 people come to Mount Angel for the weekend of their lives. They are drawn to the tiny rural community, 40 miles south of Portland, Oregon, by its beautiful countryside, Bavarian charm - and one of the greatest folk festivals in the Northwest.

There is something for everyone at Oktoberfest: Over 60 little food chalets laden with rich, delicious Bavarian treats; a large arts and crafts show full of treasures to take home; an adult Biergarten, family Weingarten and interactive family Alpinegarten. There is free entertainment on the village bandstand featuring all of the great sounds of the alpine country and a free Kindergarten on Saturday and Sunday. Enjoy a sports program that includes golf and volleyball tournaments and a high school football classic, a 200-vehicle cruz-n car show and so much more.
Mount Angel Oktoberfest
Phone :
503-845-9440
(Always call and confirm events.)
Fax :
503-845-6190
Web:
www.oktoberfest.org
Festivals
Attractions and Upcoming Events
Things to do near Mount Angel, OR